Announcing: iZōsh International!
What better day than International Women's Day to announce the launch of iZōsh International?
The UN is using today's holiday to remind people of its 2030 Agenda, which includes goals to "empower all women and girls," ensure quality education for all girls, and "eliminate all forms of violence against all women and girls." Those of you familiar with us know that these goals directly align with the mission of iZōsh.
iZōsh is a group of women dedicated to the economic empowerment of women globally who are living in extreme poverty. By giving micro-loans to these women, we help them to lift themselves out of extreme poverty and reduce the risk of oppression and exploitation in their lives. We're excited to announce that with the launch of iZōsh International, we can equip other churches around the globe to start their own iZōsh Chapters.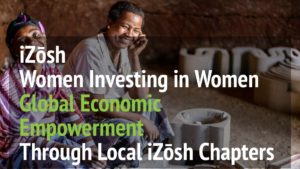 So, if you're not within driving distance of Ann Arbor, please consider starting a Chapter. Or encourage your out-of-town girlfriends to start Chapters. iZōsh International's mission is to inspire, educate, and support these chapters.

iZōsh International has a new website at izosh.org — please take some time to explore!
To date, iZōsh Ann Arbor, the founding Chapter, has granted micro-loans to 311 women, totaling $132,345. We're looking forward to seeing an even greater impact on women in poverty when partnering with Chapters around the world.
Happy International Women's Day!
– The iZōsh International Board