On April 10, 2021, the Ann Arbor Chapter hosted their first virtual Event, with 61 women in attendance. The Event opened with a welcome from Vice Chair Ellie Collman, inviting everyone to use the chat window to introduce themselves and tell where they were joining from. Responses suggested that people from well beyond the Ann Arbor area were part of the meeting. Ellie expressed gratitude that, in spite of the limitations of the pandemic, iZōsh could move forward with its mission of gathering, learning, giving, and celebrating the joy of empowering women. Her remarks touched on the challenges that COVID has brought to Michigan and to the country as a whole, and she thanked everyone for taking the time to join the group virtually.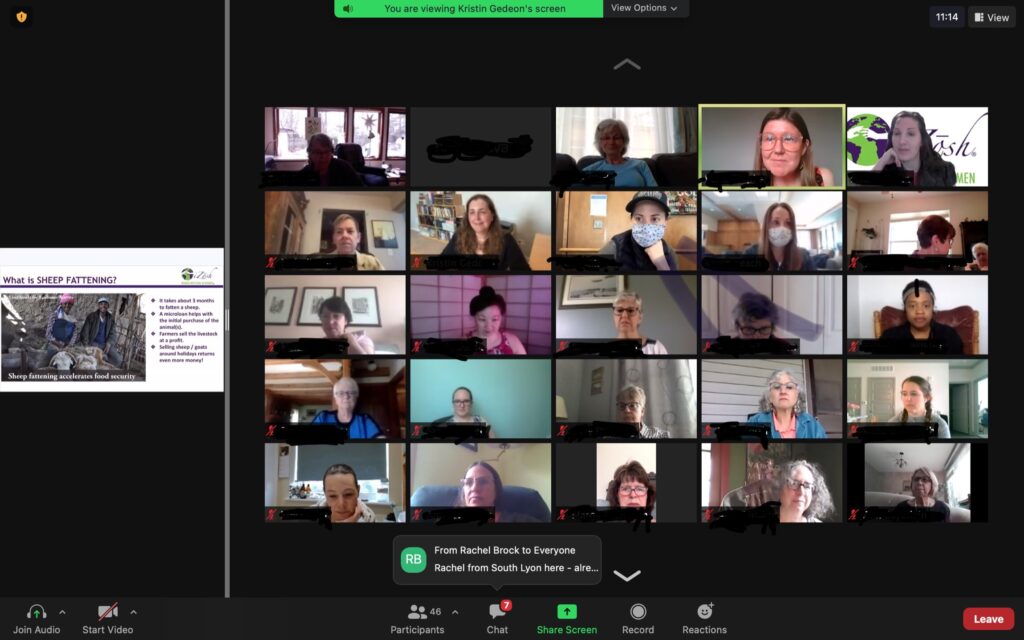 A slide was shown featuring the Event's featured speaker Amy Thompson of World Vision. Additional slides explained the idea of microfinancing, some history of the Ann Arbor Chapter and the iZōsh name, and the current status of iZōsh funding. Listeners heard that to date the Ann Arbor chapter had funded 609 women in extreme poverty, totaling more than $219,000, and it was emphasized that, given the current world crisis, the work done through iZōsh is more essential than ever.
RuthAnn Logue presented six potential loan recipient stories, with accompanying slides, from microfinance partner Opportunity International. Attendees voted and it was determined that Ugandans Antonia and Jane, who both raise cattle, and Evangeline from the Philippines, who has a piggery, would be funded initially, with the possibility that all would receive some funds after totaling up money disbursed.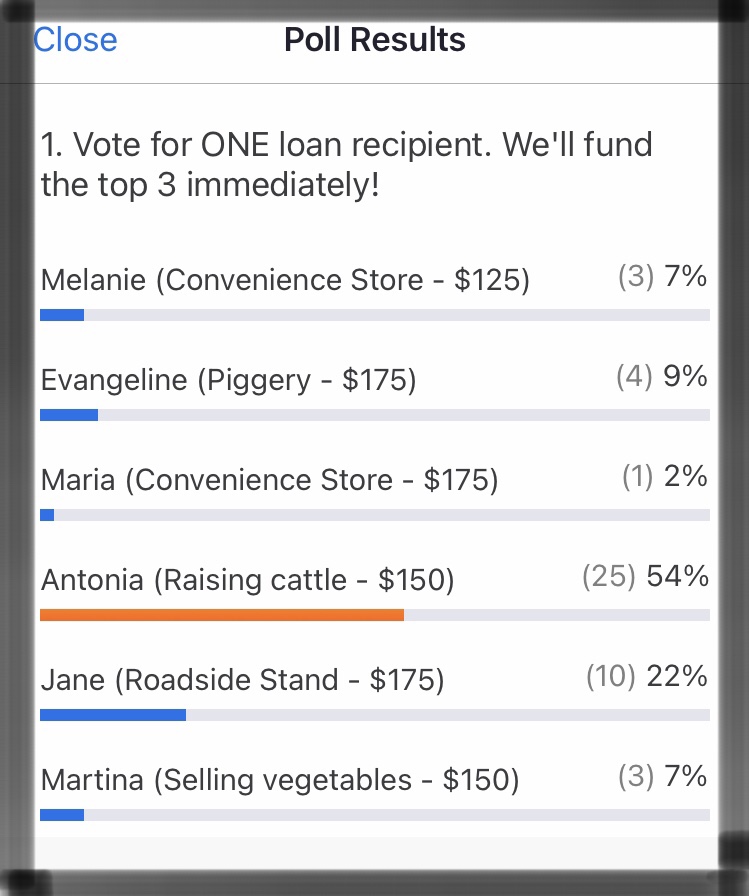 At this point the Treasurer and Loan Officers were introduced and it was announced that for this drive $10,350.00 had been received.
Information was presented on Healing Hands of Joy, an organization that works to eradicate obstetric fistula in Ethiopia. Amy Thompson gave the stories of five Healing Hands of Joy clients who were seeking microloans to help them grow their businesses. As a result of another online poll, Aregash with her poultry business, Anguash with her sheep fattening business, and Fatima with her goat fattening business were funded, with the other eligible women also possibly being funded as the meeting progressed. Attendees were reminded that 100% of money received is used for microloans.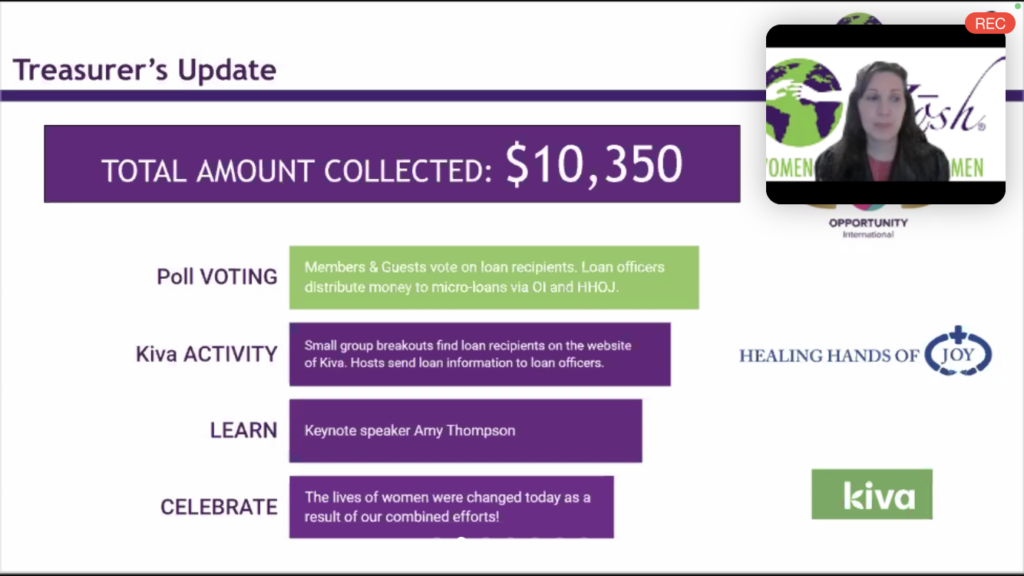 Loan Officer Leslie Wilkins described the very rewarding job of actually funding the microloans, and gave viewers an inside look at exactly how that is done. Slides from the Kiva portal were used to show how clients are selected, the lending process, repayment and reinvestment procedures, and how these same funds are used over and over throughout the world.
Leslie then introduced the breakout rooms activity, where more loan recipients would be identified in real time. Each room was assigned a leader and a country from which recipients were chosen. 17 Kiva loan recipients were found and funded during the Event. Following this time, viewers returned to the main session window, and Melodie Marske introduced the keynote speaker.
Amy Thompson has been to Honduras 30 times. She works with an organization called Hope for Honduras, managed through World Vision. Amy began by emphasizing how one woman, when empowered, can change an entire community. She spoke of the terrible blows that Honduras has suffered. First the arrival of the Covid pandemic caused severe and widespread illness. Then the extreme lockdown, which caused an already fragile economic system to collapse, resulted in terrible poverty, with thousands of people in shelters. It is estimated that 4.5 million people were affected in some way. Then Hurricane Eta arrived, and two weeks later, Hurricane Iota. Slides and video were shown of the devastation that resulted. Amy described World Vision's role in assisting women to support their families through these crises.
Ms. Thompson emphasized the ripple effect of microloans by telling viewers the story of Henry and Marisol, who had attempted to plant coffee to support themselves. They found that because of clear-cutting, water supplies had dried up and coffee farming had become nearly impossible. They were ultimately able to obtain a loan from World Vision and use it to establish a small coffee co-op which benefited the entire community. The co-op grew and they now have 95 members. Support is provided in sanitation and hygiene, both child and adult education, nutrition, Christian discipleship, and emergency procedures. They are learning ways to use the bi-products of the coffee industry for other uses. They are training baristas and coffee roasters and arranging child care in settings where the children can be fed and educated while the parents work. They are buying de-forested land and are re-establishing the rainforest. Across Honduras new loans are allowing the restructuring of existing businesses and supporting new entrepreneurs. By placing the transformation in God's hands, Honduras is re-emerging from tragedy.
A question-and-answer period followed, and questions were answered on what it's like on a coffee co-op, and how the Fair Trade coffee industry is structured. The Fair Trade designation guarantees fair prices to the growers, that pesticides will not be used, and that children will not be required to work. (Available sources for Fair Trade coffee were shared after the Event: Coffee – Hive Brands and Coffee – Fairtrade America.) Other questions answered involved the availability of water, finding and training Honduran staff, and how elementary education is provided now in Honduras. One interesting question involved the mass of Honduran people who are attempting to cross into the US and how that might be handled. Amy said that education is critical, and that if ways can be found to support families at home, keeping them together, there may not be the need to seek ways to go elsewhere. The provision of microloans plays a big part in this.
It was announced that 38 women had been funded — 13 through Opportunity International, 8 through Healing Hands of Joy, and 17 through Kiva. Since its inception 10 years ago, 646 women have been funded through iZōsh Ann Arbor, and $229,505 sent out in loans.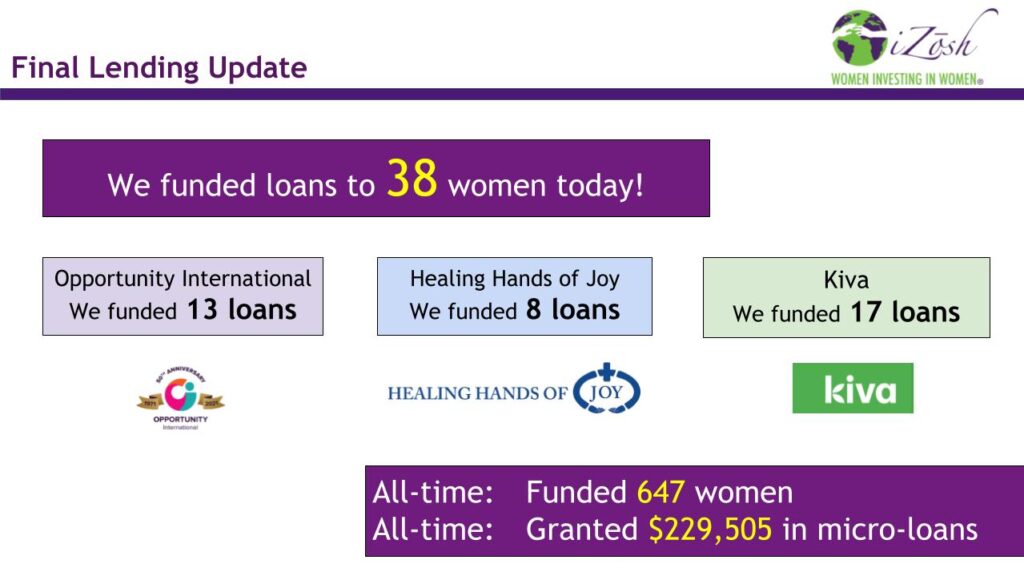 Lillian Covington from Opportunity International was welcomed. She thanked iZōsh for its efforts and told the story of Barbara, who works with coffee farmers in Uganda. She extended an invitation to a Virtual Insight Trip to Colombia in April and gave information for signing up.
Ellie then introduced Robin Phillips, president of iZōsh International, who described the process for establishing new iZōsh Chapters, inviting all interested to contact her. She thanked all for "walking with the poor" amidst the disruption in the world and in individual lives.
The meeting concluded with thanks to all attendees.
–Beryl McHenry, iZōsh Attendee