iZōsh International Board Member Peace Akol shares her story
My first contact with microlending was through my mother's experience running a small business in Kampala, Uganda where I grew up. My mother's retail business was partly financed through microloans. She, however, had access to family property/assets that she could use as collateral. Through her business, my mother was able to supplement our household income and support our family's welfare and education. Practically, it meant that I could go to school and even go on to graduate school! But my family's story with microloans goes back to before my mother.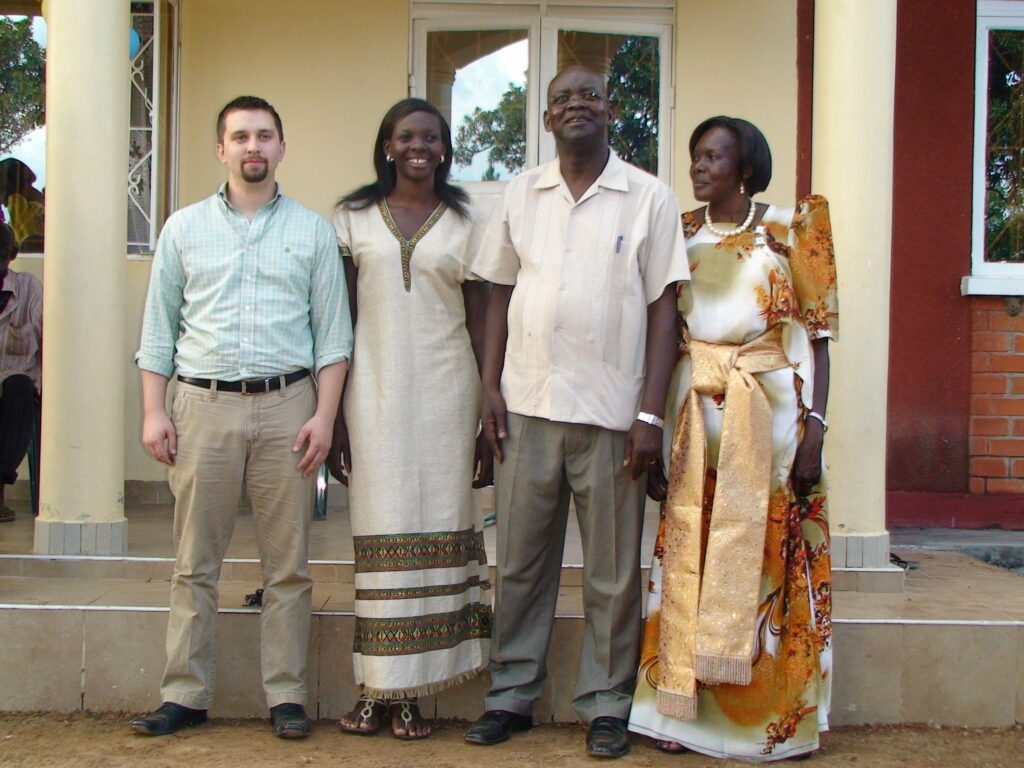 I was raised in the busy Ugandan city of Kampala, but most of my December holidays were spent in rural Uganda visiting grandparents and relatives. My grandfather was a farmer and trader with a shop in the village that served the community. This shop was a source of meaningful work for my grandfather, it provided for his family, and gave my father the opportunity to seek higher education and achieve tremendous success in his life. The opportunities my grandfather was able to provide for my father in turn impacted my own family's quality of life and the opportunities available to me.
I found out later that my grandfather relied on credit extended by traders who would stop by the village and were willing to provide their merchandise and be paid later. My grandfather had the creativity and industriousness, but needed the credit extended to him to enable him to realize his dreams and improve the quality of life for his family and community. Thanks to the resourcefulness of my mother and grandfather, and the generosity of those who stepped in to provide solutions to their business needs, my family and I are able to live far above the poverty line!
The World Bank notes that the Covid-19 pandemic has caused unprecedented negative reversals in poverty reduction, exacerbated by rising inflation and the effects of the war in Ukraine. We have all felt the effects, but people already struggling financially have been especially affected. The World Bank estimates that the combined crises will lead to an additional 75 million to 95 million people living in extreme poverty in 2022, compared to pre-pandemic projections.
The majority of people living below the poverty line are found in rural communities. They lack the basic necessities of life and seldom have the benefit of social safety nets or help from their governments. They often have to walk several miles to find essential goods and services like water, schools, hospitals, banks, and markets. Bank interest rates in these communities are prohibitively high and have a myriad of requirements (including collateral) to open and maintain an account, which are beyond the capability of the average person. This couldn't be more different than the experience of the average American.
Having lived in the United States for the last ten years, I've observed that those of us here in North America are able to find most products and services within a fifteen minute drive. If things are not easily accessible, we can go online to find what we need. It's not that simple for women living in poverty in rural regions across the world.
Despite the challenges, women impacted by extreme poverty are creative, industrious and best placed to know what goods or services are most needed in their communities, much like my mother. Many of the business ideas of female entrepreneurs are aimed at extending essential goods and services to their rural communities. What can we do to support our fellow women?
When I was a graduate student in Chicago, I was exposed to microlending through the Kiva platform. I loved the idea of being able to help someone else establish a business or provide for their family by loaning small amounts of money. As I've learned more about microfinance, I've learned that addressing the lack of financial services in struggling communities can unlock solutions to many of the other underlying problems contributing to rural poverty.
A few years ago I was introduced to iZōsh International through a friend. I was looking for an opportunity to make a meaningful contribution in the lives of people. iZōsh International, through its Chapters, provides loans to women living below the poverty line. The loans are disbursed through partners who are in direct contact with women living in extreme poverty with the aim of empowering them economically and thereby reducing exploitation and oppression.
iZōsh members have the opportunity to partner with carefully vetted organizations to contribute any amount towards microloans and make a difference. The group loans are used to economically empower women entrepreneurs, giving women living in extreme poverty a chance to lift their families out of poverty while enriching their lives and communities. Not only are the women provided loans, but also financial literacy. All of this goes a long way to the realization of these women's hopes and dreams, while also improving services within their communities. Loans disbursed through iZōsh Chapters are a gift that keeps giving; once paid back it is lent out to other women to be economically empowered while allowing each of these women to provide for their families and extended families down through the generations – just like my mother and grandfather. The cycle repeats itself.
One story of a woman impacted by a Kiva loan is the story of Pamela, in Nairobi, Kenya. Her story is not only one of economic support, but also social impact thanks to a microloan. After testing HIV positive in 1999, Pamela, a single mother, was devastated but chose to use this circumstance as a stepping stone to motivate her to be a pillar for her family and community. After receiving a loan from Kiva, Pamela was able to diversify the types of goods she offers in her shop, leading to an increase in her profits from $120 to $175 per month. Pamela hopes to open a catering business with another widow in her community. She is also a trustee for a female borrower and hopes to refer many more widows and single women to Kiva in the future. You can read her inspiring story of how she's found success and has supported other women in her community here: Pamela's Dream: Creating hope for HIV-positive women | Kiva
The story of women helping women is our story. We can all play our part in supporting and investing in each other. Through iZōsh International, I have found a way to help enable women living below the poverty line to have an opportunity through microloans to provide for their families and better their families and communities.