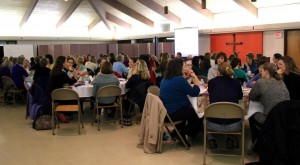 Last Friday evening, ninety women gathered together to help make a dent in global poverty, to learn about the stark realities of human trafficking, and to discuss the book Half the Sky. It was a meaningful, celebratory time together and we are thrilled for such a successful kick-off to our first savings group meeting. iZōsh: Women Investing in Women, is making a difference. And we have only just begun. To start, you all were very generous! We gifted $6,610.00 to 13 women to fund their entrepreneurial endeavors:
Adanech from Ethiopia will use her $300 to purchase fertilizer and increase her crop.
Kim from Cambodia will use her $125 to purchase more cloth for her cradle weaving business.
Luz from Mexico will use her $125 to buy more cosmetics and perfume for her beauty store.
Elfinesh from Ethiopia will use her $300 to buy cattle to take to the market.
Elizabeth from Sierra Leone will use her $550 to purchase rice, salt and oil for her general store.
Dali from Georgia will use her $250 to purchase pigs to raise and build a shed.
Christine from Kenya, will use her $330 to buy more clothing for her fashion business.
Dego from Ethopia will use her $300 to buy grain, seed and fertilizer for her farm.
Maria from the Philippines will use her $430 for capital and to expand her general store.
Nelly from Peru will use her $750 to buy ingredients for her restaurant and materials for its building renovations.
Sarantuya from Mongolia will use her $350 to buy seeds and other materials for her farm.
Sawsan from Jordan will use her $1400 to buy thread, fabric and a new sewing machine for her embroidery and tailoring business.
Anarkhan from Kyrgystan will use her $1375 to buy products to expand her grocery store.
Each of these women, who range in age from 24 to 60, also expressed desires in their loan requests to care for their families – through education, food, shelter, and/or medicinal needs. In addition to sharing our economic resources, we learned the realities of Human Trafficking from Bridgette Carr, Clinical Assistant Professor of Law at the University of Michigan. She shared with us the stories of "Betty" and "Susie", women who were seeking to care for their families, needed just a little more money, and through a series of events ended up here in Detroit, victims of human trafficking. Bridgette gave us a clear picture of how important our work in iZōsh is to keep women like "Betty" and "Susie" safe.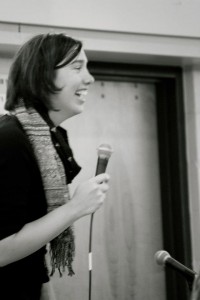 She commended us for affecting women's lives before they could be vulnerable to trafficking. Bridgette sees the after situation and hopes we could help eradicate the need for the Human Trafficking Clinic. Additionally, she shared the number for the National Human Trafficking Hotline (which the US Government has Bridgette on standby for) and told us to call if we suspect a person is in a situation against their will:1-888-3737-888. We also were able to spend some time around our tables, discussing the importance of micro-loans and what we had learned from the book Half the Sky. We shared with each other the things we found most compelling about the circumstances happening around the world today and how beneficial micro-loans can really be in a women's life. This is the book that served as the catalyst for the formation of iZōsh. Finally, we welcomed 24 new members into iZōsh from Friday night's meeting,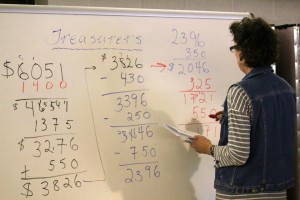 making the total number of members to 77. Thank you to everyone who gave generously that night! Together, we have begun something big – and we are already eager for our January 11th meeting at 7 p.m. at Huron Hills Church. The book discussion will be on Banker to the Poor by Muhammad Yunus. He tells the fascinating story of how, as an Economics Professor in Bangladesh in 1974, he wanted to have his students study the life of one poor person; in the end the entirely new field of micro-lending was created. We look forward to gathering once again as a community and encourage you to invite your friends and neighbors to join us. For more information: www.iZosh.org and our facebook page, www.facebook.com/iZosh