Last Month's Event: Women's Empowerment Through Art
On Friday, October 20, 84 women met at Huron Hills Church in Ann Arbor, Michigan to celebrate and continue the effort to empower women globally who are living in extreme poverty. The theme for the evening was "Power Through Art" with a focus on how art has been used effectively by women to advance their lives and make a difference in their communities and the wider world.
A raffle was held prior to the formal opening, and several lucky ticket holders received Little Stones t-shirts and DVDs. Chairpersons Colleen Dauw and Katie Glupker welcomed guests and explained some of the history and purpose of iZōsh. Since its inception, iZōsh has tried to represent a vision which includes understanding without judging, prayerfully pooling resources, honoring the dignity of women everywhere, and inviting all women to join in this effort as lives are changed. The chairpersons discussed the perks of becoming an iZōsh member, and expressed thanks to Huron Hills Church for providing the venue and supporting the organization in numerous ways. It was explained that all money collected would be distributed in real time by giving micro-loans to women in extreme poverty so that they may use it to maintain their own businesses and provide for themselves and their families.
By the beginning of the night's meeting $9,560 had already been received in dues and contributions, along with Kiva Credit in the amount of $1,875.
As an ice-breaker, going along with the evening's theme, attendees were asked to think about the power of art in their own lives. Women were asked to consider the question, "What Creatively Moves You?" and share their thoughts with those around their tables.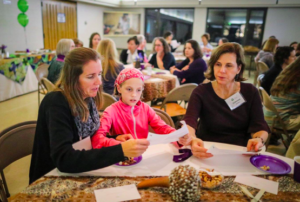 Jennifer Steiner, from the iZōsh Facilities Team, asked attendees to open the scrolls at each table and consider the profiles of two women who were asking for micro-loans. Each table chose one woman, keeping in mind that if funds permitted, the other might also receive her requested funds. After this round of voting, the group moved to the sanctuary for the screening of the evening's movie.
Little Stones was introduced by Melodie Marske, Co-chair of the Education Team, who compared the movie's theme to some of the recent headlines surrounding the "Me Too" movement and its relevance to the historical limitations which have been placed on women. She made herself, along with others, available to speak with anyone touched by the difficult messages contained in the movie.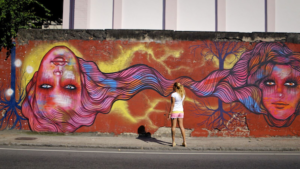 Little Stones was directed and produced by Sophia Kruz, a past iZōsh keynote speaker, and an EMMY award winning filmmaker. The documentary follows the lives of four women in various parts of the world who used art to create positive change in their communities. Sister Fa, from Senegal, was one of the very rare female hip-hop musicians in her country who carried the message of female freedom around the world. Her campaign to end female genital mutilation has had wide-reaching results. Panmela Castro, a graffiti artist from Brazil, used her painting to bring attention to domestic violence in her country. Sohini, a dancer in India, became a dance movement therapist to help heal women who had been abused, and trained others to use her methods.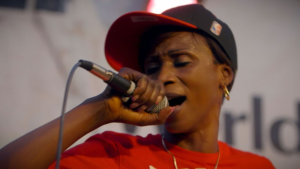 Judith from Kenya, with the support of Anna Taylor from the USA, co-founded a fashion business, employing and training local women to produce items that would be desirable on the world market, empowering them to make their own money and support themselves. The moving documentary has revealed the profound impact of art on women's rights internationally.
At the end of the movie screening, Katie Glupker announced that, in total, $16,342 had been distributed in real time that night to 49 women in need. Individual table selections were presented one by one, with 18 different countries represented in that total. It was announced that, since its beginning, iZōsh has funded 411 women and disbursed $166,093 in micro-loans.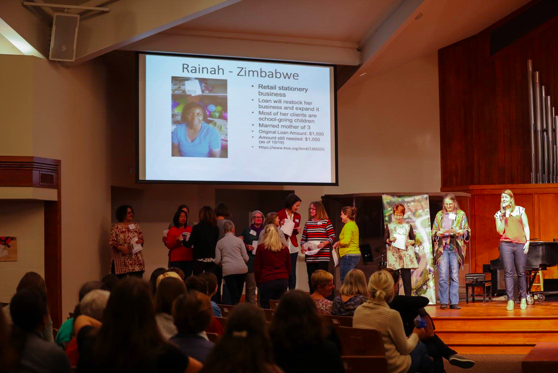 The next iZōsh meeting will be March 16, 2018. The speaker will be Johanna Ryan, Global Director of Social Performance, VisionFund International, speaking on the subject, "Invest in Women to Secure the Future."
Written by Beryl McHenry
All photos by Aileen Butler Burke