Giving Vulnerable Girls a Chance to Dream
Please join us on October 30th as iZōsh welcomes Margo Day as our featured speaker. Ms. Day — Microsoft Corporation's Vice President of U.S. Education — has more than 28 years of experience in high-tech software sales, marketing, business development, and partner and channel management. In 2012, Ms. Day began her focus on U.S. education with Microsoft, due in part to a life changing experience three years earlier on sabbatical in Kenya, which helped her to see the power of education there.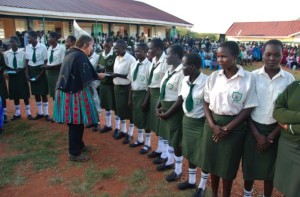 While Ms. Day is clearly a leader in the high-tech computer world, she has a passion for making the world a better, safer place, especially for girls. The heart of this passion lies in rural Kenya where Ms. Day's efforts have been focused on providing access to education for vulnerable girls through St. Elizabeth's and St. Catherine's schools.
In her words, Ms. Day recounts her life changing experience:
"In 2009 I first visited Marich Pass in Kenya and met 34 of the bravest girls I have ever had the honor to meet. These girls, ages 8-12, had refused to be married early and refused to be mutilated. They had been ridiculed and beaten. In some cases, they had fled their homes, and in other cases, were rescued as their homes were not safe anymore. I didn't feel worthy to be standing on the same ground as them, knowing I wouldn't have been so brave when I was 8 years old. When I heard their stories and looked into their eyes I saw two things: very brave girls who had deep determination to live a better life, and at the same time the look of girls who longed to be validated that they were important and longed to be loved. The only thing they asked that day was to help them have a better life by supporting their education. It's because of these girls that St. Elizabeth Girls Secondary School came to be."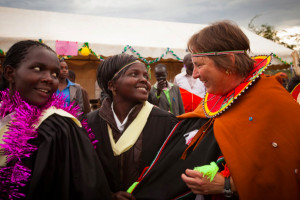 Clearly, this is not education just for the sake of education. The work Ms. Day has embarked upon is driven by an uncommon determination to allow girls to stay in school, avoid becoming child brides, and to escape the traditional practice of female genital mutilation (FGM). For some of these girls, the schools offer not only a chance for an education, but a safe place where they can literally be rescued from undergoing FGM. It truly can be a matter of life or death.
We're looking forward to hearing Margo Day talk about the amazing transformation taking place in the lives of girls in rural Kenya, and what lies ahead for these girls who are being allowed to dream again.