iZosh is only 2 weeks away!
We hope you have your calendars marked for Friday night, two weeks from today, for the iZōsh event! Prepare for an evening of enlightenment, as we learn about strides being made to end female genital mutilation (FGM). And we'll be funding micro loans — in real time — to women in extreme poverty around the world.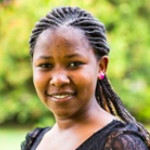 Speaking of women investing in women, check out this article from the Guardian about girl activists each striving to make a difference in their home communities in Africa.
The words from Atieno Fiona Kimberly, a 17 year-old student in Kenya, especially resonated with us: "FGM and early marriages should stop and Kenya would be a better place for a girl."
Please join us to hear Margo Day speak about progress in battling FGM at our next event OCTOBER 30th at 7pm, at Huron Hills Church.
See you in two weeks!