A reflection on giving and being seen by Karen Peach, iZōsh International Board Member
'Tis the season to deck the halls, bake more cookies than is wise to consume, sing beloved carols proclaiming our Savior's birth, and, not to be forgotten, pick out the perfect gifts for loved ones. Shopping is not high on my list of favorite activities. Add to that an accompanying sense of inadequacy in the selection process and I sometimes find myself a little less than joyful in the act of giving. Many times, I just want to check this off my to-do list!
When I think of giving joyfully, my memory immediately retrieves an image of my son as he eagerly awaits his sister opening the gift he picked out for her. He's sitting so close to her, his excitement palpable and his knowing grin wanting to betray the surprise in the last minute of suspense. I love this image! When I reflect on this, I realize that I am well acquainted with this feeling of joy in giving.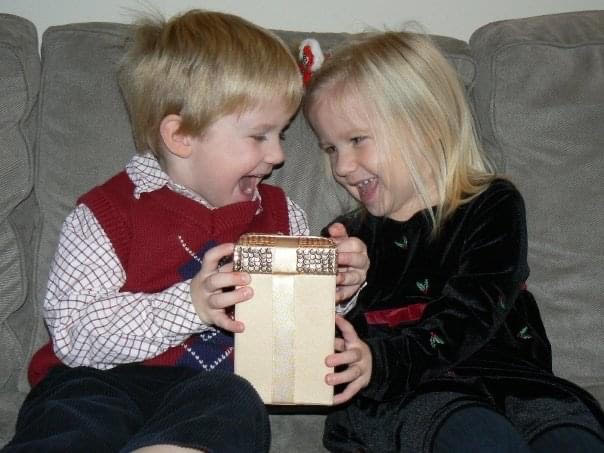 Does it come from an admonition to give joyfully? No, that is more likely to leave me feeling guilty. Does it come from knowing exactly what a recipient would be thrilled to receive? That certainly helps, but not even that is the basis for my joy when I give. My joy is rooted in gratitude- in knowing that I have been seen and that I matter. And thus, I overflow with an urge to spread that worth to others!
Many times, showing others they are seen and matter isn't shown with a physical gift. One of my most precious gifts was an email I received from a friend I hadn't heard from in a while who felt compelled to let me know she had felt burdened to pray for me. The timeliness of her words hit strongly and I knew that I was seen. Another precious gift I received was that of a potential employer who believed in my abilities even though my resume – after mostly being a stay-at-home mom for a decade – didn't offer the compelling career progression stories that many employers seek. I could chalk it up to good luck, but I knew better. I was seen. Someone had seen me and chosen to believe in who I was as a person.
This is one of the main reasons I fell in love with the ministry of iZōsh. Because when you've experienced being seen, it's only natural that in your joy, you desire for others to know they are seen too! And that is what we show to the women who are chosen to receive micro-loans. To paraphrase Katie Glupker, Ann Arbor Chapter president, we are in essence telling women, "I see you and you matter. I believe in you." The joyful noise made during the meetings as we celebrate the giving of micro-loans echoes with the resounding joy in our hearts. We know that these women are not just seen by us. They are seen by God. They matter not just to us, they matter to God. What a great joy and privilege to partner with other iZosh members and with these women, in helping lift their families and communities out of extreme poverty.
When you've experienced being seen, it's only natural that in your joy, you desire for others to know they are seen too!

Karen Peach, iZōsh International Board Member
As you celebrate this season, I eagerly hope that each of you will be overcome with a gratitude that results in an exuding joy. May you sit with palpable excitement and knowing grins as you give, whether the recipients are known family and friends, or women halfway around the world who you have never met.