On October 21, 2017, 117 women gathered together at Huron Hills Church in Ann Arbor for the semi-annual meeting of iZōsh®: Women Investing in Women, an organization dedicated to the economic empowerment of women globally who live in extreme poverty. Their mission is to give micro-loans to these women, allowing them to establish small businesses and help lift them out of their dire circumstances, reducing the risk of oppression and exploitation in their lives.
Attendees were treated to an original opening song by Mary Collins of Ann Arbor,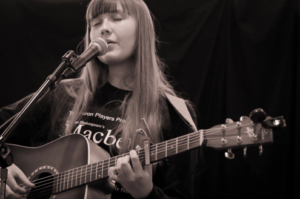 who accompanied herself on the guitar. Following this, iZōsh founding member and Chair Robin Phillips described the mission and vision of iZōsh for members, guests, and first-time attendees. She outlined how iZōsh is modeled on a savings group concept and, since its inception in 2012, has provided funds for small loans which have empowered women in third-world countries to circumvent ancient cultural practices detrimental to their well-being, avoid cultural oppression and exploitation, and go on to educate succeeding generations to do the same. iZōsh works with Kiva, World Vision, and Opportunity International to distribute these funds, 100% of which go directly to the women who are chosen at iZōsh meetings such as this.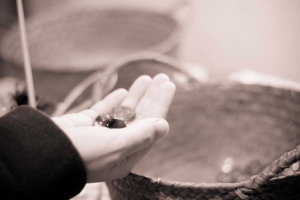 Katie Glupker, iZōsh Leadership Team member, welcomed the group, with a special welcome to attendees who'd heard about iZōsh from attending the ilm Little Stones, directed by former iZōsh keynote speaker Sophie Kruz, that was shown at the Michigan Theater recently. Recipients of loans from the stone voting by the membership were announced, and then the evening's speaker, Allison Shigo, was introduced by Robin Phillips.
Allison Shigo has been the recipient of an Emmy for her work on A Walk To Beautiful, a film which also won the International Documentary Association award for Best Feature Documentary in 2007, was screened at over 25 film festivals, and received numerous other awards internationally. She also co-produced Fistula Worldwide, Three Years Later, leading to an outreach campaign to raise awareness of the issue of obstetric fistula and begin changing attitudes and practices surrounding this devastating condition. In 2009 Allison co-founded Healing Hands of Joy, a non-profit organization in Ethiopia to empower fistula sufferers and eliminate fistula. She developed the Safe Motherhood Ambassador Training program to provide reintegration and rehabilitation services to fistula survivors. Graduates of the program, more than 700 to date, serve as trainers and advocates for safe delivery in their communities.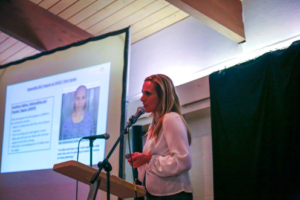 Allison's topic was "Delivering Joy in Ethiopia: Healthy Mothers, Healthy Babies, Healthy Communities." She very recently returned from Ethiopia, and said that one third of all births in Ethiopia happen at home, and there are 3,750 new cases of fistula every year. In the United States, fistula was eradicated over a century ago; in Ethiopia it continues to be a "double sorrow." The baby dies and the mother is left with injuries and suffers a social death because of the ignorance of the general population as to how this happens. She described how women who suffered obstetric fistula following long, unsuccessful deliveries then endure being shamed, shunned by neighbors, and abandoned by their husbands and families. Condemned to a painful, lonely existence, many become suicidal. Because of the isolation of many Ethiopian villages, no medical assistance is available. Care at hospitals in larger cities requires many hours of walking by women already in labor and distress. The goal of Healing Hands of Joy is to spread the word to outlying villages that there is help and after-care support services so they are once again accepted in their home villages. In a true "treatment cycle," these women then educate other women they come into contact with, encouraging them to deliver in hospitals and clinics, with the goal of eliminating fistula within five years.
In 2003, Nicholas Kristof, a New York Times columnist (and author of Half the Sky) called fistula sufferers the "lepers of the 21st century." He described the huge educational gap that had to be surmounted, and told of the first center for fistula treatment which opened in Mekelle, Ethiopia. Ms. Shigo shared that there are now three such centers that do workshops for male family members, community members, religious leaders, and other stakeholders, as well as women who are pregnant and those who have suffered fistula in the past. Their economic empowerment program, which includes micro-loans, encourages women into income-generating pursuits. The women tell their personal stories, beginning with treatment for fistula, reintegration into their communities, receipt of small loans, establishment of businesses, repayment of their loans in small increments, and their determination to educate the next generation. In the years ahead, these centers intend to apply to the government for assistance in funding these programs.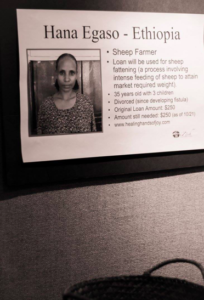 A period of questions and answers followed. In response to questions Allison told listeners that obstetric fistula is not confined to Ethiopia but occurs in 49 countries, including Nigeria, Bangladesh, Viet Nam, Pakistan, and Afghanistan, among others. One person asked if paying for treatment was a problem for women who sought it. Allison clarified that the treatment was free, but that the main reason women did not seek treatment is the problem of transportation to the centers. Villages are so isolated that there is almost no way for a woman already suffering to get to the center for help. When asked how we could help more, Allison encouraged listeners to go to the Healing Hands of Joy website.
Following Allison's moving talk, iZōsh treasurer Dawn Perry announced that $13,665 had been collected that night! Attendees celebrated with cowbells and shakers. Tables then chose additional women to be funded from among potential recipients. While the team of loan officers worked on allocation of all the funds, Ruth Ann Logue and Melodie Marske, iZōsh Education Committee chairs, read Tsehay's Story, a personal account from a fistula sufferer, and discussions at each table followed.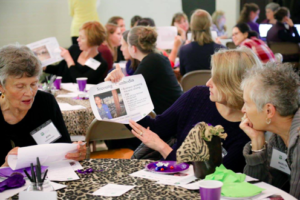 It was announced that 40 women had been funded by money donated that night, and since the inception of iZōsh, a total of $132,345.00 has been distributed to 311 women.
The highly successful evening ended with another song by Mary Collins, and attendees were encouraged to put the next iZōsh meeting, March 24, 2017, on their calendars.
–Beryl McHenry, iZōsh Communications
All photos by Aileen Butler Burke