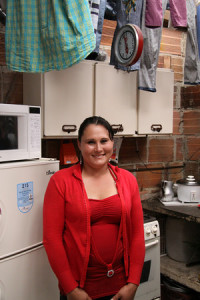 Meet Martha.
Martha and her family lived on a farm in Huila, a province in the southern part of Colombia. Huila is one of the areas marred by fighting between the illegal armed groups and the army. Martha occasionally handed out lemonade to members of the army in an attempt to feel safe. But in reality, she lived in fear each and every day.
One day, one of the guerrillas came down from the mountain and told Martha's family that they were being accused of being government informants and aiding the army. Her family was given 12 hours to leave their home or be killed. Selling what they could to neighbors, they fled to Bogota with little more than the clothes on their backs.
In Bogota, they sought help, but the number of displaced persons had overwhelmed the government. They begged for food and picked up odd jobs where they could. They squatted on a piece of land on the outskirts of Bogota, high in the mountains, and constructed a home out of scrap wood, metal and tarpaper.
Finally, Martha qualified for a government-training program and became a security guard. It was here that Martha learned about Opportunity International's Trust Group program. Martha contacted Opportunity, but was told there were no groups where she lived. She was also told that if she could form a group then Opportunity would help. Although Martha barely knew the people in her neighborhood, she knocked on every door until she finally had enough people to form a group. Today, Martha is the president of the "Fig Tree Trust Group".
Using her first loan, Martha started making a corn and milk based drink that she learned to make in Huila. When she started, she sold about 40 glasses each day for about $1. After two years of loans, Martha now sells about 450 glasses per day. She requires so much milk that the milk company delivers directly to her home each week!
Today, Martha's family has a home constructed of brick, an industrial stove, and she even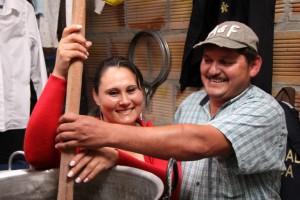 purchased a used car to transport supplies. Martha presented her drink to a local grocery chain that has shown interest in distributing it. During all of this time, Opportunity International has been her only source of finance and for this she is deeply grateful.
Martha's dream is to increase her business production levels to be able to purchase a fleet of motorcycles to distribute throughout Bogota.
Besides being a blessing to her family, the Trust Group is strong and united. The group supports each other during troubled times and, in doing so, is transforming their community.
To hear more stories like this and to make a difference in the lives of women like Martha, please join us on Friday, May 2 for our next iZōsh event!