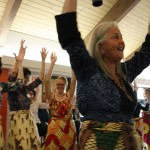 A week from Friday, on January 24th from 7-9 pm at Huron Hills Church, we will be having our winter iZōsh event! Now is the time to remind your friends and colleagues about this exciting evening of helping to transform the lives of women who are seeking to lift themselves out of the extreme poverty in which they live.
Kristin and Kathryn Wong, a mother-daughter team, will be speaking about their compelling book, Fierce Compassion: the Life of Abolitionist Donaldina Cameron. Donaldina Cameron was a heroic, feisty Scottish woman who took on the Chinese gangs (tongs) of San Francisco in the early 1900's. She assisted in rescuing thousands of girls from human trafficking and her story is definitely one you will want to hear. We are excited for these local friends and authors to share with us their journey and discovery of this remarkable woman.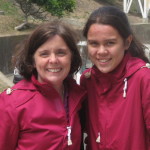 Additionally, we have the privilege of hearing a special interview conducted by U-M Law professor, and former iZōsh speaker, Bridgette Carr. Bridgette, who runs the nation's only clinic for human trafficking victims, will be interviewing a former client, and successful trafficking survivor, "Betty". We are honored to have them.
Interspersed with these powerful presentations, we will also be gifting loans to women whom YOU propose through the sites we use, Kiva, World Vision Micro and Opportunity International. If you are a member, we invite you to look through the profiles of women whom you may want to propose as a loan recipient. Be on the lookout for another email next week announcing when the window is open to receive recipient proposals.
Remember, if you are not able to make this event, member dues are being accepted now up until the beginning of the event that evening. Details on how to do this can be found here.
We can't wait to gather again and hope you will join us, and bring guests! We're so thankful and excited for the way iZōsh continues to grow.