Throughout history and around the world, women have been tricked, coerced, sold, and then secretly trafficked to places far from home, where they have been enslaved and abused. At our next iZosh event, on Friday, January 24, 2014, we'll learn from author Kristin Wong about human trafficking in our own country's history.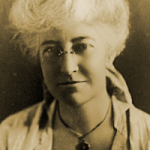 In San Francisco, 1877, hundreds of angry men filled the streets, pillaging and burning as they yelled "The Chinese must go!" Meanwhile, girls and women were quietly trafficked from China to California, sold to the highest bidders, and tucked away in hidden corners of Chinatown to spend the rest of their lives as sex slaves. A young Scottish-American woman, Donaldina Cameron, came to Chinatown to teach sewing for one year. She stayed for over four decades. Daring, tenacious, charming and devout, she courageously fought Chinese organized crime and American racism. Donaldina rescued hundreds of slaves and raised them as her daughters. Hers is a story of romance and intrigue, oppression and hope, perseverance and faith. She was called the most loved and hated woman in Chinatown, and is credited with breaking the back of the Chinese slave trade in America.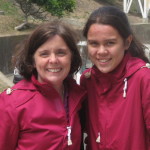 Kristin and Kathryn Wong are a mother-daughter writing team from Ann Arbor, Michigan. They wrote Fierce Compassion: The Life of Abolitionist Donaldina Cameron during Kathryn's last two years of high school. Both Kristin and Kathryn love history, writing, and advocating for issues of social justice. "We wrote this book because we fell in love with the story of Donaldina Cameron and want to share it with the world. We wrote this book to tell a new generation about a woman who was once famous for her tenacity and bravery, but who has since been forgotten by many. We wrote this book to honor girls and women, then and now, who have been bought and sold as slaves. We hope that this book will bequeath readers with some of our heroine's fierce compassion to face the challenges of today." Kristin is "eagerly looking forward to January 24. What a privilege to introduce the wonderful iZosh women to another community of women, who a century ago banded together on behalf of their sisters in distress. Donaldina Cameron and her team are kindred spirits whose lives and work can inspire our own." Join us on January 24th at 7:00pm to hear from Kristin and learn more about our country's history. Through our time together, we will continue making a difference for the future of women and girls around the globe by granting micro-loans in real time. The Wongs' book is available here.