Congratulations to all on a great iZōsh event!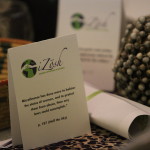 More than a hundred women gathered together on Friday, January 11th, for the purposes of granting loans to women in extreme poverty, discussing the book Banker to the Poor by Muhammad Yunus and learning more about micro-loans from our fabulous speaker, Joan Mussa. We gifted $9920 to 22 women across the globe! After our first round of voting, Joan Mussa, Senior VP, Director of Mobilization for World Vision, enthusiastically encouraged us in our venture.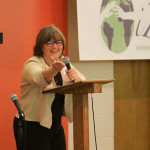 The name iZōsh is an Amharic word. You use it when you speak to a woman who needs support — who is experiencing a challenging situation or tragedy. Joan's Ethiopian husband further explained to her that it means to come alongside a woman, to in effect say to her, "You are not alone. We are here for you." This connectedness, Joan emphasized, is why micro-loans are so effective, and why we have a responsibility to give them. Never before has it been so easy to change the life of a woman in need, and that is a responsibility we must steward well.
Joan explained some key ways in which World Vision Micro functions. One of the most important character traits a successful woman has is that of resilience; the women who receive our loans have proven that time and time again. World VIsion Micro has over 806,000 active borrowers in 35 countries, impacting 2.4 million children.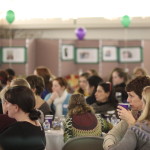 Joan updated us with information about Luz Elena from Mexico, who we gifted money to in our October meeting. Luz has already repaid 62% of her loan. She previously bought a computer and turned her grocery store into an internet cafe and is now expanding her stock with cosmetics and perfumes! Joan showed us a picture of Luz with her three daughters, examples of actual lives changed through micro-finance.
Later, Joan shared, "I was absolutely overwhelmed by the commitment of the women of IZōsh to serve others who live in poverty. I was equally touched to see teenage girls sharing this passion alongside women in their 90's. Caring for the poor connects us together in so many powerful ways. The evening was both powerful and creative. Who knew serving the poor could be so fun and meaningful! I dream of a day when there are IZōsh chapters all around the country." Our table discussions of Banker to the Poor by Nobel Peace Prize winner and founder of the Grameen Bank, Muhammad Yunus was also informative and engaging.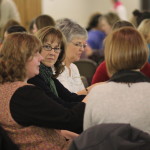 The simple story of giving just a few dollars to Mufia Khatoon, a destitute beggar with four children to care for, revealed to us the magnitude of difference micro-loans can make. Instead of being left homeless and starving, she is now able to clothe and feed her children through her home-based bamboo business. It is both an inspiring and heart-wrenching story which furthered our resolve.   As usual, the voting was divided into three different types of rounds throughout the evening. The recipients of our January meeting are as follows: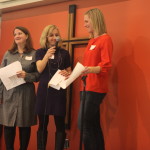 Celsa Baledio of the Philippines received $75.00 to purchase cacao beads and dried fish. Nhorn Loem of Cambodia received $125.00 to purchase pigs. Isabel Sandoval vazquez of Mexico received $600.00 to purchase fresh food for her restaurant. Bekelu Merga of Ethiopia received $200.00 to purchase fertilizer and seed. Aberash Dullo of Ethiopia received $225.00 to purchase modern hives for her bees. Adjoa Baabankpe of Ghana received $75.00 to purchase bulk cereal. Chanthoeurn Sok of Cambodia received $225.00 to purchase piglets and pig food. Abebech Melkamu of Ethiopia received $550.00 to purchase a hybridized cow. Millicent Ouma of Kenya received $250.00 to purchase hair dryers for her salon. Tenabe Daka of Ethiopia received $550.00 to purchase supplies for her store. Tean Lach of Cambodia received $225.00 to purchase agricultural supplies and hire an irrigation machine.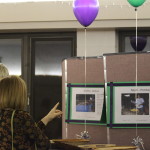 Christine of Kenya received $750.00 to purchase retail for her general store. Maria Milagro of El Salvador received $925.00 to purchase food and liquor for her store. Sareoun of Cambodia received $575.00 to purchase fertilizer. Faaleaga of Samoa received $375.00 to purchase gardening tools and supplies. Nilda of Peru received $225.00 to purchase supplies for her children's party store. Gloria of El Salvador received $525.00 to purchase fresh fruit for her store. Leafa of Samoa received $325.00 to purchase a wheelbarrow and gardening supplies. Esha of Kenya received $575.00 to purchase charcoal to resell. Otgon of Mongolia received $1,975.00 to purchase animal hides and pelts. Juliana Morales of the Philippines received $345 to purchase new tires for her motorcycle transportation company. Wilma Almonte of the Philippines received $450.00 to purchase coco lumber.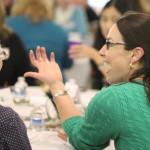 A big thank you to all our guests and members for their generosity! We look forward to our next event — this time on a Saturday morning, April 27th, from 9 a.m. – 11 a.m. We will be focusing on chapters 3-4 of Half the Sky by Nicholas Kristoff and Sheryl WuDunn. Don't forget to invite your friends and neighbors to save the date and join us for another meaningful event!