Banker to the Poor by Muhammad Yunus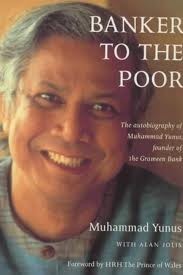 In 1983, Muhammad Yunus established Grameen, a bank devoted to providing the poorest of Bangladesh with minuscule loans. Twenty-three years later they won the Nobel Prize for Peace for their work in eradicating poverty. This is an inspiring story of one man's realization that access to even a small amount of credit can transform the lives of the poorest citizens of the world.
Yunus aimed to help the poor by supporting the spark of personal initiative and enterprise by which they could lift themselves out of poverty forever. It was an idea born on a day in 1976 when he loaned $27 from his own pocket to forty-two people living in a tiny village. These micro-entrepreneurs only needed enough credit to purchase the raw materials for their trade. Yunus's small loan helped them break the cycle of poverty for good. His solution to world poverty, founded on the belief that credit is a fundamental human right, is brilliantly simple: lend poor people money on terms that are suitable to them, teach them a few sound financial principles, and they will help themselves.
Yunus's theories work. Grameen Bank has provided loans totaling six billion dollars to seven million families in rural Bangladesh. Today, more than 250 institutions in nearly 100 countries operate micro-credit programs based on the Grameen methodology, placing Grameen at the forefront of a burgeoning world movement toward eradicating poverty through micro-lending.
The opening six chapters of Banker to the Poor tell us how Muhammed Yunus transitioned from a faculty member to a banker.  As we walk with Yunus on this journey, we learn about the history of micro-finance and see how great an impact these loans can have on individual lives.  We'll be discussing these chapters at our January 11th iZōsh meeting and we hope you'll be able to attend.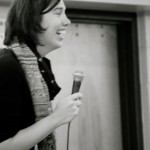 And, in case you missed it, here is our last speaker, UM Clinical Assistant Professor Bridgette Carr's response to our meeting:
"The women of iZōsh are making a difference in women's lives before they become vulnerable to human trafficking. As the director of the Human Trafficking Clinic in Ann Arbor, I see the "after" situation, when women are victims, and I hope that someday iZōsh can help eradicate the need for what I do."
We look forward to gathering once again as a community on January 11th at 7 p.m. and encourage you to invite your friends and neighbors to join us.