One Week Away from iZosh
The upcoming iZosh event on Friday, October 24 will take us back to our roots and provide a powerful reminder of the impact of micro loans in the lives of women. For part of the evening, we will "become" women in a Zambian women's savings group as each table participates in a realistic role play. We will be using a script developed by World Vision to pay our dues, present our need for the loan and vote on the recipient. iZosh was founded on the model of a savings group like this and the role play is a fun and effective way to really understand how it all works. This role play was part of our original "roll out" of iZosh over two years ago. Invite a friend to join you for a memorable experience.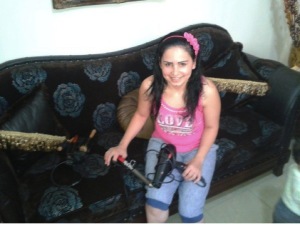 We're so proud of Thanaa from Lebanon! She has successfully repaid her loan of $650 in 14 months for her in-home beauty salon. Click here to read more about Thanaa. We hope to see you at our upcoming event Friday October 24, at 7pm at Huron Hills Church! Invite your friends!