Let's help more women like Janeth
Our next iZōsh event is one week from today, and we hope you are planning to be there, and have invited your friends and neighbors. We are excited to gather again for many reasons, and one of the main ones is our loan recipients.
There is a great amount of diversity among our loan recipients. They come from many countries and many walks of life. This is the story of Janeth in the Philippines. We funded her loan at our October, 2014 event.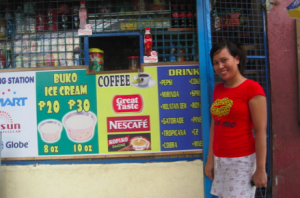 For the last six years, Janeth has run a general store, and she buys and sells flowers to earn additional income. Janeth has worked closely with Opportunity International, borrowing and paying back nine microloans to date. She hopes that her expanded inventory will help her grow her business and save enough money to send her children to college.
One week from today we will gather to grant more microloans to women like Janeth at our next iZōsh event, April 22nd at 7 pm at Huron Hills Church.
Christine Chan Downer, a consultant with International Justice Mission, will be educating us.  Also, Huron Hills' own Hannah Klinkman will be performing two dance works that address the effect that human trafficking has on families, and the sense of empowerment that iZōsh aims to help women discover. You'll want to arrive early enough to do your stone voting and get your seat so you don't miss anything!
It's guaranteed to be a meaningful evening and we hope you can join us.
See you next Friday!